http://ulcercity.blogspot.com/2014/04/tonic-in-air.html
Below is a public letter to my Commercial Modernism in America Students. They have been working on a periodical analysis project. They submitted first drafts of their papers last week. –GT.
I have been reading your papers for class. I have some thoughts for you as a group. I'm addressing these remarks to you generally in anticipation of meeting and talking with you individually. Some of the issues raised may not apply specifically to you, but they are common enough to be characterized as consistent themes.
My observations are offered within the narrow context of the Periodical Analysis assignment, but they are broadly relevant for all those who strive to write well on cultural topics. Consider them tips with parochial utility offered in an expansive spirit.
The purest distillation is this: Look. Describe. Interpret. In that order. Text + image + fusions of the two.
Now, specifics. Every paper I have read so far has fallen into the category of Option 1, spelled out thusly: You will write a sustained analysis of a single issue, making an index of and describing its contents, then producing a sustained reading of a single spread (if it contains disparate pieces) or two consecutive spreads (if that's what it takes to incorporate different kinds of material, like ads + editorial content).
Let's break that into halves.
[You will make] an index of and descri[be]…its contents.
For starters: look at the thing. Curiously. Comprehensively.
How many pages are in the magazine? Where was it published, and by whom? What categories are listed in the table of contents? If there are particular subjects of interest (say, in a women's magazine, the sequence of illustrated spreads at the outset of fiction stories) tell us.
As for content analysis, if constructing a table for data seems easier than writing a prose paragraph, fine, do that; then refer to it.
When you mention stories and illustrations, cite the authors and illustrators. Same with cartoons and cartoonists. This a form of seriousness and courtesy; it doesn't matter if their biographical narratives or artistic aspirations are germane (they're not, in almost every case), they are the people who made those things.
Say you want to write about an advertisement: before digging in, why not compile a categorical list of all the ads in the magazine (table again) so we know if the one you are focusing on is particularly representative or not. If it's not particularly representative but interesting for other reasons, fine; tell us that.
We want lots of facts about your artifact.
Why do we want those facts? Because they establish your authority as a reporter and critic. They're evidence for an effective interpretation. Which anticipates the second half of the prompt:
[You will produce] a sustained reading of a spread or two.
Here we pause to say that if you are writing about a visual subject, it is helpful to show your reader a picture of it. As I am that reader, I will make my request explicit: please provide visual documentation of what you are writing about. Skye Lacerte, Kristin Flachsbart and others at West Campus will be make scans for you if you are polite and you give them several days to accomplish the task. So get on that! In the meantime–or as an alternative–you can photograph the material yourself and crop it in Photoshop.
Your artifact provides an opportunity to think about something. What does it mean? What can it tell us about the cultural moment in which it was made? What's the interpretive opportunity? (If there isn't one, you may have chosen badly. Back up and ponder: what would I like to know about this thing that I don't know now?)
For example: above, an advertisement from the Saturday Evening Post from the early 1950s for Carrier Air Conditioning. I pulled the ad from the tear sheet folder for an illustrator named Mac Conner in Walt Reed's research files. (There are approximately 250,000 such tear sheets in said files, from the Reed Illustration Archive.) Kristin Flachsbart was kind enough to make the scan (along with others) for me.
Thank you, Kristin!
We can start topically:
When and by whom was air conditioning invented, industrialized and popularized?
What's the background on Carrier Corporation specifically?
What arguments in what contexts does the ad make for air conditioning?
Consider the social and political history of the United States between 1940 and 1970, and between 1970 and 2000. What–for example–might be/have been the correlation between the widespread availability of air conditioning and, say, domestic architecture? Between A/C and the distribution of the 435 seats in the House of Representatives? Or A/C and the distribution of professional sports franchises? Does anything in the ad presage such developments?
How might the visual and readerly context of a mass-market magazine like the Saturday Evening Post have influenced the look of this ad?
Is the editorial orientation of the Post, published by Curtis Publishing of Philadelphia, relevant for this discussion?
Does the ad represent ideas about gender roles? How?
Does the ad represent ideas about nature? How?
Does the ad capture significant dimensions or trends in the popular culture of the time? How?
Does the ad suggest latent attitudes about American experience in then-recent decades? How?
Is anyone missing from this ad? Who? Why?
Which readings from this semester might be helpful for interpreting this artifact?
Here are some possibilities:
Jules David Prown, "Style as Evidence." Winterthur Portfolio Vol. 15, No. 3 (Autumn, 1980).
Published by the University of Chicago Press for the Winterthur Museum, Garden & Library,
Wilmington, Delaware. Pages 197-210.
Sean Latham and Robert Scholes, "The Rise of Periodical Studies." PMLA, Volume 121, No. 2.
(March 2006). Published by the Modern Language Association. Pages 517-531.
Fields, Wayne. "Recovering America: Al Parker's Postwar Illustrations." Catalogue essay in
Ephemeral Beauty: Al Parker and the American Women's Magazine, 1940-1960. Stockbridge,
Massachusetts: Norman Rockwell Museum, 2007. Pages 18-27.
Charles Baudelaire, "The Painter of Modern Life." The Painter of Modern Life and Other Essays, translated and edited by Jonathan Mayne. London: Phaidon, 1964. Pages 1-40.
Clement Greenberg, "Avant-Garde and Kitsch," (1939). Anthologized in Art in Theory 1900-2000: An Anthology of Changing Ideas. ed. Charles Harrison and Paul Wood. Malden, Massachusetts: Blackwell Publishing. 1992, 2003. Pages 539-549.
Also: if you are writing about a women's magazine in the Postwar period, go read the first and second chapters of Betty Friedan's The Feminine Mystique, "The Problem That Has No Name," and "The Happy Housewife Heroine." W.W. Norton, 1963.
Look. Describe. Ask questions. Interpret. Use sources from your reading packet as interpretive prompts if you're stuck, and even if you're not.
Finally: do you read magazines? Do you read, for example, Cosmopolitan? Maxim? Glamour? Sports Illustrated? (You are squarely in the demographic for these publications.) If so, you consume editorial material and advertising which address you as someone who a) buys things, b) uses products and services to create or amplify your sense of identity,
c) experiences desire, and quite possibly d) has sex. As a complicated human, you are capable of digesting material aimed at you because you buy, self-construct through brands, desire people and things, and are sated without being transformed into an unreflective, dumb-assed desire robot. If you know this about yourself–as I am confident that you do–you may wish to extend such awareness to other humans from other historical moments. Say, for example, Postwar American women who read
The Ladies Home Journal
while leading otherwise complex and conflicted lives.
http://postsecret.com/2014/04/12/sunday-secrets-28/
—–Email—–
People do care… and you're not the only one who has had that thought. I owe my life to my Duke friends and my therapist at Duke's counseling center…
—–Email—–
I live in the next town over (Chapel Hill), and I care very much about how much you're hurting.  Please reach out to those around you to stay safe.  You can find out about suicide intervention resources in our community here: http://www.trianglesuicideprevention.org/resources.htm .  Be well.  You are worth the time and effort it takes to heal.
—–Email—–
I looked on the Duke website and found some information about the University's Counseling and Psychological Services (CAPS).  They are located at 214 Page Building and the phone number is 919-660-1000.  There are people who care and they are there for a reason!
—–email—–
Hi Frank
Just wanted to say…
I care.
If they'd like someone to talk to, they can email me.
Thanks
Matty
(icare_PS@hotmail.com)
Tickets for the all new "PostSecret: The Show" are available Online Now.
http://postsecret.com/2014/04/12/classic-secrets-22/
—–Email—–
my first thought when looking at the picture and reading the lines was about how this postcard was a poem for itself.
There's still time to get your secrets in the new book. Copy the postcard above and mail yours. Pre-order today from Amazon or Barnes and Noble.

http://ulcercity.blogspot.com/2014/04/harry-and-alfred-make-pictures-of-people.html
I have written often about the final project in Word and Image 1, which is a Figure, Story and Staging problem. Prior posts
here
and
here
. Yesterday we went to the Modern Graphic History Library to look at tearsheets and originals.
Curator Skye Lacerte pulled a great assortment of Al Parker's early two-color work, from the late 1930s well into the 40s. Those pieces show the clever narrative and design sensibility of all Parker's work. They are still modeled in the manner of the era, before he began to pursue the (occasionally radical) flatness of his work during the 50s, in the manner of the era.
By comparison, Parker circa 1959, (when flying was totally glamorous).
As a counterpoint, and as a set up for discussing key drawings (also a prior topic, most significantly here) we also looked at a stack of Harry Beckhoff tear sheets from the Charles Craver collection. (I have yet to wade into the Beckhoff file from the Walt Reed collection, but I am greatly looking forward to it!)
I simply love this stuff, both formally and dramatically.
I am posting these examples with relatively little commentary, for reasons of efficiency. The people in these stories are often in formal wear.
A toreador with a drum.

A story told through posture.
Lots of two-fisted types and colorful dames.



An Art Deco tableau.
Some hat!
A sailor pulled in two directions, one more attractive than the other.
Two very different illustrators, but both characterized by wit and style.
Images: Al Parker,
Restaurant fight breaking out in front of jungle wallpaper
, watercolor(?) and gouache with additions in dry media, date and citation unavailable, circa 1940; Parker,
Be-robed man with plumed knight's helmet speaking with woman
, watercolor(?) and gouache with additions in dry media, date and citation unavailable, circa 1940; Parker,
An emblem as famous as the people it serves
, two-page spread advertisement for American Airlines, circa 1959; Harry Beckhoff,
"Excuse me sir, but it's the truth!"
Collier's Weekly, April 5, 1941 [all of these Beckhoff images are fiction illustrations published in Collier's]; Beckhoff,
"Calfs are seldom house broke,"
June 12, 1941;
Miss Wilson gasped at Peter March
, June 1, 1939; Beckhoff,
He held is beloved drum aside,
March 4, 1939; Beckhoff,
We did a bit of firsting stuff together
, April 9, 1938; Beckhoff,
"Boys, Boys!"
March 1, 1941; Beckhoff,
"I smell Nassau in May,"
June 17, 1939; Beckhoff,
"Mr. Lethbridge," cried Sally, "meet my fiancé!"
, January 8, 1938; Beckhoff,
A Sailor pulled in Two Directions
, January 16, 1937.
http://www.fromoldbooks.org/Scudder-DoingsOfTheBodleyFamily/pages/027-border-of-twigs-us-letter/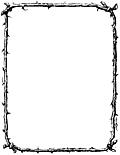 A rustic full-page border of twigs, complete with an ant at lower right, sized for US letter paper (8½×11 inches at 400dpi).