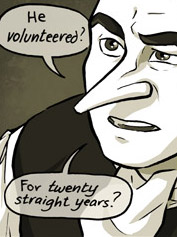 Page 103 of Family Man now online!
(permalink)
Whew. Just under the line, there. Well, it's on time for West Coast time anyway. Sorry East Coast and Europe, your academic intrigue is slightly late!
Anyway, that's about it for the scholastic yakkity yak. Soon there will be more girls and foreshadowing!
--
As previously mentioned, I'll be at the
Stumptown Comics Fest
in Portland, OR this weekend! Oh, how I will be there.
Not only will I be tabling, I'll also be moderating the Periscope Studio panel and participating in the Comic Art Battle. Also giving away Family Man postcards, selling some pendants (if I can scrape up the time to make some!), t-shirts, sketches, minicomics, and just generally running around like a crazy person. Come say hi!
Also, I drew some shoes.
Because.